IP COREspondence April 2022
*|MC_PREVIEW_TEXT|*
CAST COREspondence
The IP Newsletter from CAST, Inc. — April 29, 2022
In the past months, we've been working on creating or improving several new IP products we think you'll find beneficial. 

Some of this work is already exposed: see the articles on ASIL D cores and the new CAN XL below. We'll reveal other work in product announcements throughout the year, especially for the upcoming Embedded World and DAC shows.

Good industry partnerships are essential. We've recently added a new development partner, IObundle, and will ship new products with them later this year. Companies that use our IP in their own IP — like Achronix and Rambus — are also more like partners than customers, and we're pleased to expand these relationships as described below.

I hope you and your teams are faring well as the third year of the pandemic rolls out. Let me know if we can help ease your stress with some excellent IP cores.
--  Nikos, Zervas, CEO, [email protected], +1 201.391.8300
CAN and LIN Certifications Expand
ASIL D IP Line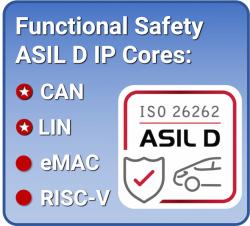 Functional Safety for automobiles (ISO 26262) uses Automobile Safety Integrity Level (ASIL) designations to rate a system's ability to reduce or avoid hazards automatically. These range from ASIL A for low-risk systems like the washer fluid monitor to ASIL D for the most critical systems such as airbag controllers.

Working with Fraunhofer IPMS, we're proud to offer one of the most varied sets of commercially available ASIL D certified IP cores. 

These include the CAN 2.0/CAN FD/CAN XL and LIN bus controllers, which recently achieved ASIL D certification by independent testing office SGS-TÜV Saar GmbH. They join our ASIL D-certified LLEMAC-1G Low Latency Ethernet MAC core — ideal for automotive Ethernet — and the EMSA5-FS Functional Safety Embedded RISC-V Processor.

Read more about the ASIL designation process and these cores in our blog post: New ASIL D Certifications Broaden CAST's Functional Safety IP Line. ► 
CAST started licensing reusable IP in 1996. We helped create the current IP market, inventing business arrangements, licensing terms, support expectations, and IP core product quality standards, along with a few other IP pioneers.

Today, silicon IP has become indispensable for product developers. The same is true of IP providers selling larger, pre-integrated, subsystem or system-level IP products. Serving these customers requires a totally different business paradigm than that of just licensing a core to an IC developer: we've had to address sublicensing terms, liabilities, support duties, and revenue sharing in new ways.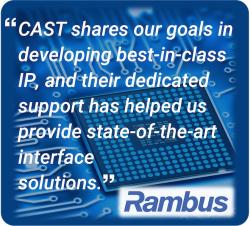 Most IP vendors have been reluctant to play in this new market. We, however, have embraced it and tackled the challenges, and for a decade now, CAST has been helping define the "IP for IP" market. 

The competitive advantages mean CAST customers don't usually allow us to publicize such arrangements. But we've worked with premier interface and security chip provider Rambus since 2015, and they recently authorized this statement:
 
---
"The IP from CAST and our close technical relationship have proven extremely beneficial to Rambus customers," said Matt Jones, VP of Strategic Marketing at Rambus. "CAST shares our goals in developing best-in-class IP, and their dedicated support has helped us provide state-of-the-art interface solutions."
---

Give us a call or email if you'd like to be able to say similar things about your IP provider.
CAN XL: Nearing ISO Standardization and Successfully Tested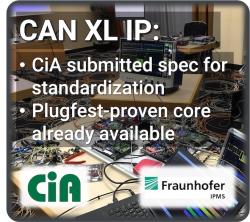 CAN XL is nearly ready for mainstream adoption, and our CAN Bus Controller is one of the few IP cores already available with CAN XL capabilities.

CAN XL promises to fill the gap between CAN FD and Ethernet with data rates up to 10Mbits/s. A CiA (CAN in Automation) working group developing the CAN XL specification recently submitted it for ISO standardization; see the news from the CiA.

At a CiA-sponsored plugfest in July 2020, our partner Fraunhofer IPMS worked with four other vendors to evaluate their new CAN XL products for function, interoperability, and backward compatibility. All the CAN XL nodes performed satisfactorily; read more in this blog post.

One of the first IP vendors to offer CAN XL in a CAN controller core — see our September 2020 press release — we have been updating it in step with the spec. Consider this popular core if you'd like to design devices with CAN more efficiently, CAN 2.0, CAN FD, or CAN XL capabilities. See details on our CAN-CTRL product page. ►
CANsec — Security for CAN XL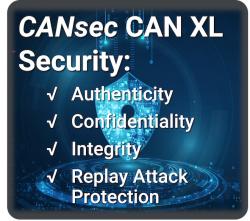 The many benefits of CAN XL mean its adoption is likely to be widespread. This raises concerns for CAN XL bus security, and a CiA working group already focuses on this. They call it CANsec.

CANsec is a data link layer protocol defining Secure Zones within which nodes can safely communicate. This scalable, future-looking approach provides the most critical security features: authenticity of origin; confidentiality of data; integrity and freshness of data; and prevention of attacks where previously captured frames are replayed. 

We have been closely following the CiA CANsec working group, and we expect to offer a CANsec extension option for our CAN XL Bus Controller very soon. Stay tuned.
IObundle and CAST Partner on
Audio and Compression IP Cores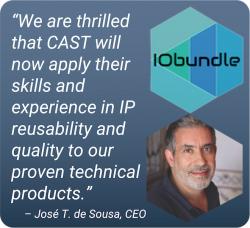 System-level IP company IObundle traces its roots back to CoreWorks in 2006. The team has expanded its expertise every year since. Today they are known for developing alternative system architectures and IP for audio interfaces, compression, and other functions. 

We are pleased to soon offer some of IPbundle's proven IP with the quality, easy reusability, and unmatched technical support for which CAST IP is known. The details are still confidential, but we expect to offer the first joint IP core this quarter (it's a PNG decompressor, but don't tell anyone). Learn more about the new partnership in this press release.  ►
CAST and Achronix Expand Partnership to Deliver Secure FPGA Solutions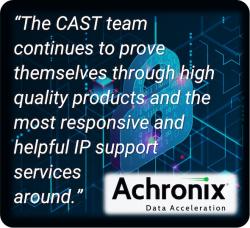 Fabless semiconductor experts Achronix began using CAST compression IP for data center applications years ago. They have recently also chosen CAST encryption IP for their secure FPGAs. 
The security capability built into select Achronix 
Speedster7t FPGAs
 employs a high-performance version of our Authenticated Encrypt/Decrypt Engine IP Core (
AES-GCM
). This enables 128-bit data encryption without impacting the FPGAs' high throughput and low latency.
Read more about our encryption primitive IP cores and Achronix Speedster7t FPGAS in 
our press release. ►
Upcoming Events 
  
Embedded World 2022
Jun 21, 2022 - Jun 23, 2022
Exhibition Centre, Nuremberg, German
Booth:4-561







59th DAC
Jul 11, 2022 - Jul 13, 2022
Moscone West Center
San Francisco
Booth 1506
Downloads