PCI-T32
32-bit/33MHz PCI Target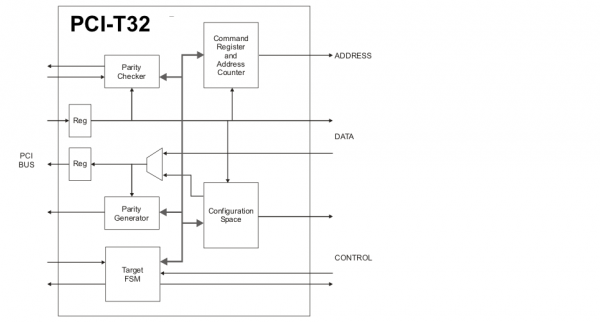 The PCI-T32 implements a target PCI interface compliant with the PCI 2.3 specification. It supports a 32-bit address/data bus and operates up to 33 MHz PCI clock.
The interface core implements 64 bytes of PCI Configuration Space registers. It is possible to extend the Configuration Space up to 256 bytes if required.
The Target supports up to six Base Address Registers with both I/O and Memory space decoding from 16 bytes up to 4 GB. 
The Target supported commands are:
Configuration Read, Configuration Write
Memory Read, Memory Write, Memory Read Multiple (MRM), Memory Read Line (MRL), Memory Write and Invalidate (MWI)
I/O Read, I/O Write
The PCI-T32 builds on more than 15 years of CAST PCI IP expertise and has been designed for straightforward reuse, with proven design practices that ensure easy integration and smooth technology mapping. The core is available in synthesizable RTL or as a targeted FPGA netlist, and is delivered with everything required for rapid and successful integration and implementation. 
 
The customer can adjust the PCI-T32 core parameters in the RTL source. For a netlist license the delivered netlist is generated with the parameters specified by the customer. The PCI-T32 core can support 66 MHz PCI bus speed. Depending on the target technology a minor modification might be required. Please contact CAST for any required information.
The core has been verified through extensive simulation and rigorous code coverage measurements. 
Support
The core as delivered is warranted against defects for ninety days from purchase. Thirty days of phone and email technical support are included, starting with the first interaction. Additional maintenance and support options are available.
Deliverables
The core is available in ASIC (synthesizable HDL) and FPGA (netlist) forms, and includes everything required for successful implementation. The ASIC version includes:
HDL RTL source code 
Sophisticated HDL Testbench
Simulation script, vectors, expected results, and comparison utility
Synthesis script
Comprehensive user documentation, including detailed specifications and a system integration guide
The PCI-T32 can be mapped to any ASIC technology or FPGA device (provided sufficient silicon resources are available). The following table provides sample performance and resource utilization data assuming that only the PCI I/Os are routed off-chip. Please contact CAST to get characterization data for your target configuration and technology.
Family
Device
LUTs
BRAM
DSP
Fmax
(MHz)

Artix-7

7a100t-2
255
0
0
33

Kintex-7

7k160t-2
256
0
0
33
PCI specification 2.3 compliant
33 MHz performance
32-bit datapath
Zero wait states burst mode 
Full Target functionality
Single interrupt support
Type 0 Configuration space
Support of all Base Address Registers
Support of backend initiated target retry, disconnect and abort
Parity generation and parity error detection
Optional bridge / interface to AMBA/AHB or Avalon-MM
Available in synthesizable HDL source code 
Silicon-proven