LIN-VIP (Discontinued)
LIN Verification IP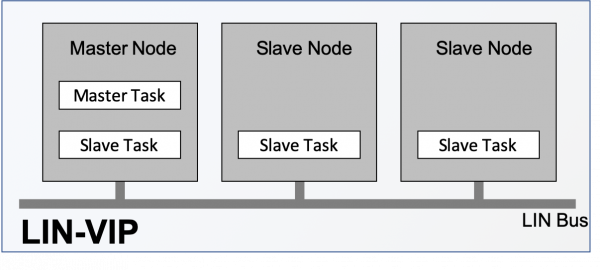 LIN-VIP is a comprehensive VIP package for LIN controllers. SoC and IP designers use this LIN-VIP package to ensure complete verification of their designs and full protocol and timing compliance.
LIN-VIP implements a ready-to-use set of models, protocol checkers, and compliance testsuites in 100% native SystemVerilog and UVM. It supports the latest relevant specifications, including LIN ISO 17987 Part 1-7.
The system configuration uses an LDF class describes complete cluster configuration and information mapping
Time Base, Jitter
Participating Nodes & Attributes
Schedule table
Collision resolver
System-wide Signals set (Publishers, Subscribers)
Frames types (Unconditional, Event, Sporadic, Diagnostic, User-Defined, Wake/Sleep) 
Each node refers to copy of LDF class object for request header and response generation
Signal and Diagnostic carrying frame class models all frame formats including Header and Response
Support
The LIN-VIP as delivered is warranted against defects for ninety days from purchase. Thirty days of phone and email technical support are included, starting with the first in-teraction. Additional maintenance and support options are available.
Deliverables
The LIN-VIP includes everything required for successful implementation:
Master and Slave node BFMs
Compliance Testsuite
User Guide
Supports ISO 17987 Part 1-7
Master and Slave node BFMs
Node configuration and identification services
Automatic frame segmentation and reassembly of network layer messages (FF, CF)
Automatic frame scheduling to time slot/time base including collision resolution
Frame transmission ordering and endianness
Status management that provides error handling and error signaling
Wake and Go-to-Sleep modes
Diagnostics
Response pending
Diagnostic and Interleaved Diagnostic mode
Verified with CAST LIN IP
Additional Features
Timing class models all timing parameters (randomize, modifiable)
Transport and Network layer timing parameter including time base and jitter
Multiple bit rates from 1Kbps to 20Kbps
Inter-frame delay
Error detection (callback, bit stuffing) and injection
Random configuration
Node type, bit timing rate, time base, jitter
Error injection/Callbacks
Functional Coverage
Protocol checking
Protocol analyzer log
Compliance testsuite (17987 Part 6)