Winning Embedded World Best in Show for RISC-V Functional Safety Processor
03/24/2023 - 12:42
We recently had a busy and successful week exhibiting again at the Embedded World conference in Nuremberg, Germany (March 14–16, 2023).
Covering much more than just semiconductor IP, this year's EW had almost 27,000 visitors (50% more than last year's 18,000) with 40% of the attendees coming from outside of Germany. We were among 950 exhibitors coming from 44 different countries.
Our team at EW definitely felt this resurgence in the show, by far the busiest and most productive event since Covid struck. Excellent meetings and booth conversations were had with existing and potential new customers, semiconductor and IP partners, vendors, and long-time industry friends. 
As relatively-new-to-CAST Sales Engineer Dr. Calliope-Louisa Sotiropoulou remarked: 
"This first experience at Embedded World really affirmed the rebounding of the industry. Having worked in aerospace, defense, biomedical, and high-performance computing applications at CERN and other organizations, it's gratifying to now help system designers choose and apply some of the best IP in the world to their own projects in many of these same areas."
EW also marked the beginning of our celebrations for the 30th year since the founding of CAST. Many folks (and maybe some competitors) stopped by to talk about how CAST has managed this unusual longevity.
Hot topics at EW included AI, machine learning moving to smaller platforms, and the steep rise in RISC-V popularity.
Regarding the latter, we were honored to win a Best in Show award from Embedded Computing Design magazine for the Functional Safety RISC-V processor IP core we source from Fraunhofer IPMS, the EMSA5-FS.
The award recognizes this first-to-market RISC-V processor certified forASIL-D, the highest assurance level of the ISO 26262 Functional Safety standard, and the impact it's having on the automobile system design market. If you in turn recognize how the EMSA5-FS might be crucial to your own new automotive systems, check out its product page, or these press releases from its launch and recent upgrades.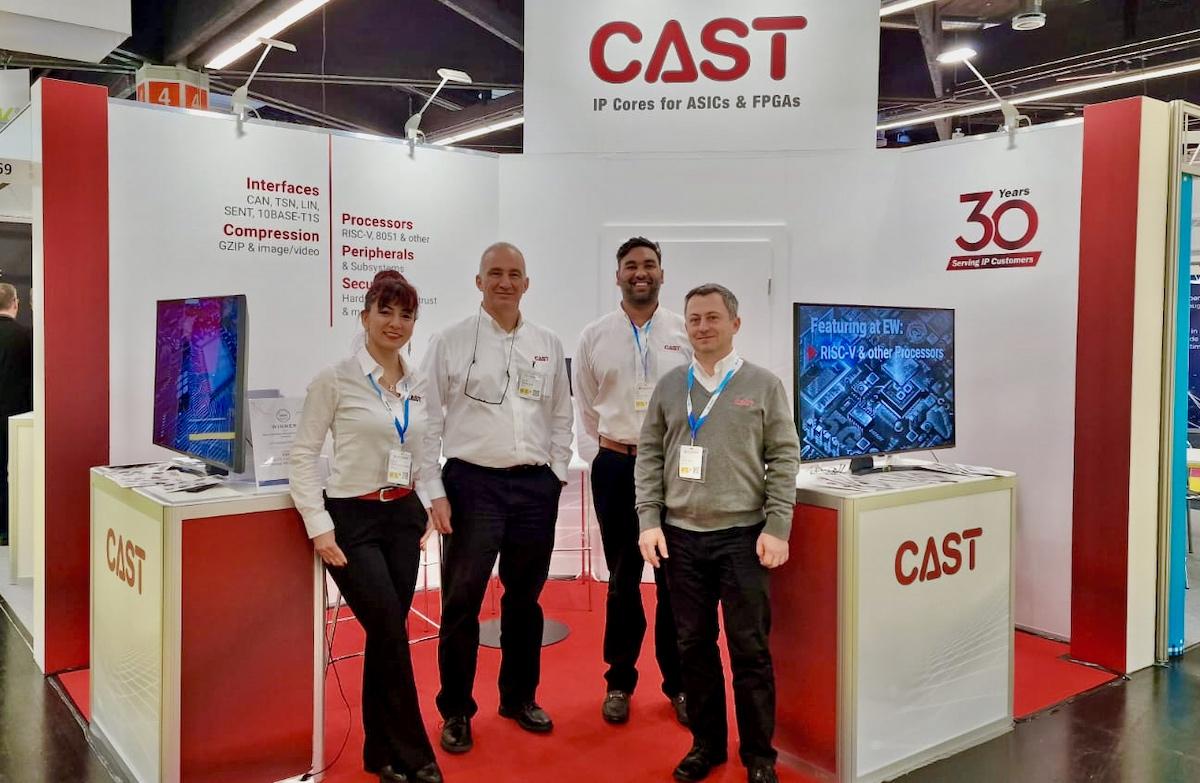 Embedded processor cores based on the RISC-V ISA and designed for functional safety and low-power applications.